Purchasing a Laptop
In the W.S. Lee College of Engineering, we have Mosaic labs that should cover most of your computing needs. Mosaic Computing Support offers 24/7 labs across campus that contain all the software you might need during your studies. While this is useful, it is not always convenient. This is why all College of Engineering students are required to purchase a laptop for convenient access to programs and access to Mosaic Anywhere. A preconfigured system with our exact specifications can be purchased here via our NinerTech Store. Having a laptop allows you to access some engineering software to use at your convenience.
Requirements for New Students First Enrolled for Fall 2023 or Beyond
| Laptop Equipment/Feature | Requirement v. Recommended |
| --- | --- |
| Windows 10 or higher (OS) | Requirement |
| 64 bit (OS) | Requirement |
| Intel Core i7 or higher or AMD Ryzen (processor) | Requirement |
| 16 GB or higher (RAM) | Requirement |
| 2 GB or higher (RAM – graphics) | Requirement |
| 512 GB or higher SSD (hard drive/storage) | Requirement |
| 14 in or higher (screen size) | Requirement |
| USB-A or USB-C port(s) + adapter | Requirement |
| HDMI port(s) | Requirement |
| Camera, microphone, speaker(s) | Requirement |
| 3-button mouse (for Mechanical Engineering CAD Apps) | Recommendation |
The W.S. Lee College of Engineering also requires that laptops, for all undergraduate and graduate students taking college of engineering courses, have a microphone, camera and speakers for use in online classes.
Apple Computer Support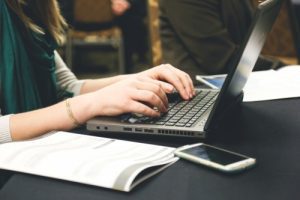 The Lee College of Engineering does not support the purchase of Apple Laptops for student use. The majority of the software required by the engineering program is Windows-based with some occasional Linux, meaning that Apple laptops will not be able to support the software needed to complete required course work.
The NinerTech Computer Store on campus has laptops from which to choose that are suitable for students of the College of Engineering. These computers were picked by them to meet or surpass Engineering laptop recommendations. These systems can be found here on the NinerTech Computer Store website. The NinerTech Computer Store also offers several warranty options which you can find more information on here.